Waldorf PPG Wave 3.V is the reincarnation of the legendary PPG Wave Synthesizer, which no doubt is considered one of the most respected high-end synthesizers of the 80s. Developed by Wolfgang Palm, this instrument is featured on countless records, and it inspired a whole generation of producers, composers and listeners. While back then it was your choice to spent your money either for a vehicle or the PPG, the new PPG  Wave 3.V renders this breathtaking sonic character very affordable, comfortably to use for every VST or AU Host.
PPG Wave 2 was the very first digital Wavetable synthesizer with analog filters that allowed completely new worlds of sound and endless sonic possibilities. Shortly afterwards, the successor PPG Wave 2.2 came out and was born to make history. With a gigantic arsenal of waveshapes, it could not only reproduce known analog sounds, but also brilliant choirs, bells and whistles. The digital sounds of wavetables had been unheard until then and offered sensational sonic evolutions by smoothly going through 64 waves back and forth.
But the technical possibilities also produced harsh artifacts such as aliasing and others, which could not be omitted back then. Today, although technology is some steps further, Waldorf engineers even managed to get the harshness back in order to recreate the character of the beast.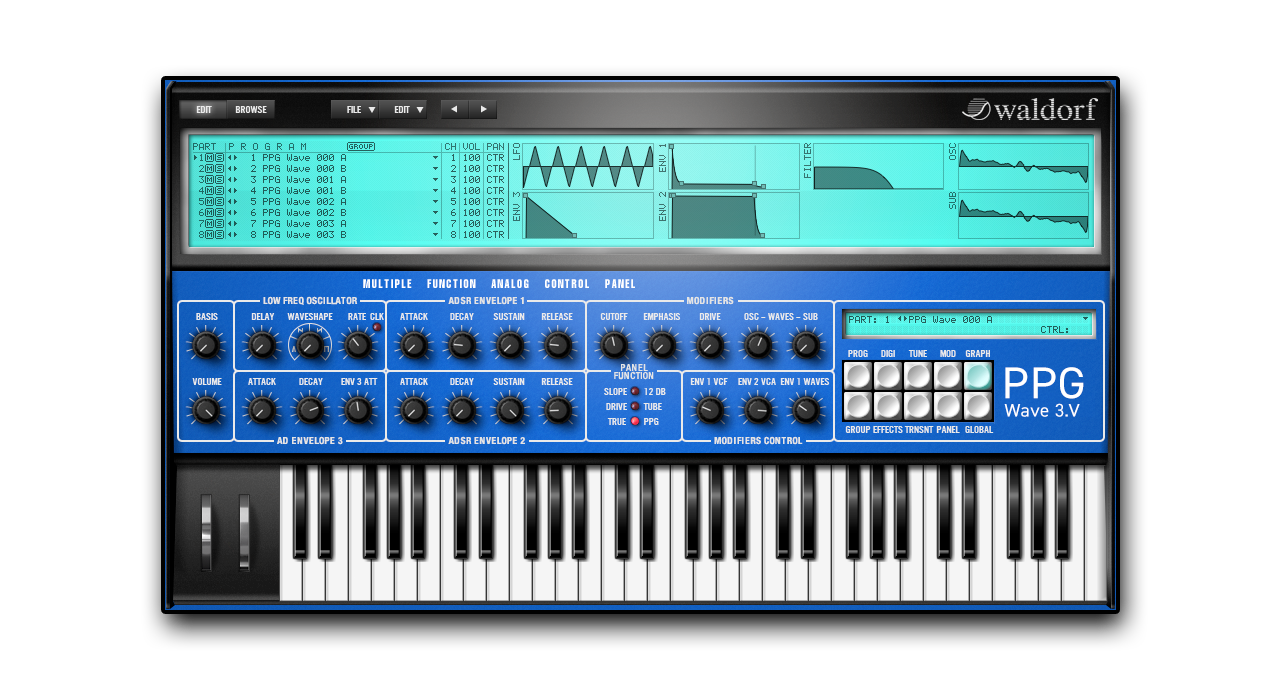 Wolfgang Palm, the inventor of Wavetable Synthesis, assisted during the development process in order to recreate the PPG as close as possible. "We are very thankful for Wolfgang's very informative advice and insight during development." Says Waldorf developer Stefan Stenzel.
The combination of digital waveshapes and analog filters of the PPG was responsible for an unparalleled fat and thrust boosting character. This has been very accurately recreated in PPG 3.v up to the smallest resolution of detail. With PPG 3.V, it is actually possible to switch between several version of the original. Besides PPG Wave 2.2 and PPG Wave 2.3, PPG Wave 2.V and their subtle differences in aliasing and other sources of harshness are adjustable.
Waldorf PPG Wave 3.V is capable of delivering up to 256 voices of polyphony, depending on the host computer. Each voice offers two Wavetable oscillators with optional sample playback with either 8, 12, or 32 bits of resolution. Samples can easily be loaded by Drag & Drop. An 8 part multimode allows multisamples to be used with the same charme and ease of use that the original offered.
Sound is further shaped by a selectable 12 or 24 dB lowpass filter, which is an authentic recreation of the classic PPG Wave 2.2/2.3 Filter, followed by an optional overdrive for extra fuzz. Besides the LFO, three envelope generators serve as modulation sources, either for the original rude or the contemporary smooth modulation.
Up to eight parts can be arranged in poly, dual, quad and mono unison modes, with separate semitone adjustments for automatic chords or melodies. Thanks to the multimode with eight stereo outputs, the instrument is well suited for both studio environment or live on stage.
The Arpeggiator offers up and down modes, besides this an alternate mode and with "cascade mode" a true PPG specialty. For further refinement, several effects are available simultaneously, among these a 4-band equalizer, several overdrive modes, a phaser with up to 12 stages and a chorus with up to six taps. Flanger, stereo delay and reverb are also available.
The original PPG featured a unique user-interface, the "Analog Control Panel" offered direct access to many parameters, while digital menus were edited with somewhat cryptic acronyms that you had to look up in the manual in your lap.
PPG Wave 3.V features the very same concept, with the slight enhancement of comprehensible parameter names and values. Almost all parameters can be subjected to host automation and convenient MIDI regulation by assigned control numbers. This makes it very easy to integrate PPG Wave 3.V into any existing production environment.
General
Up to 256 voices per instance (depending on available CPU power)
8 part Multimode
8 Stereo Outputs
Host automation of most parameters
MIDI Controller automation of most parameters
More than 100 new Wavetables created by Wolfgang Palm
Original Waveterm B Factory Sample Library
Original PPG Wave Factory Sounds
Per Voice
2 Wavetable Oscillators
Sample Playback with 8 bit, 12 bit or up to 32 bit
Authentic Aliasing Emulation of the PPG Wave 2.2/2.3/2.V or no aliasing
12dB / 24 dB Low Pass Filter
Authentic Filter Emulation of the PPG Wave 2.2/2.3
Overdrive behind Filter
1 LFO
3 Envelopes
Authentic Emulation of the modulation graininess (switchable with True PPG)
Per Part (up to 8 parts available)
Poly, Dual, Quad and Mono (8 voices) mode with 8 different semitone offsets to create chords or melodic lines
Arpeggiator with Up, Down, Alternate and Cascade (PPG special) mode
True PPG Mode switchable between PPG Wave 2.2, Wave 2.3 and Wave 2.V
4-Band EQ
Overdrive with various types
Phaser with up to 12 stages
Chorus with up to 6 stages
Flanger
Stereo Delay
Reverb
Other Features
Sample loading via drag&drop or load file dialog
Multisample playback by using the 8 part Multimode
8 adjustable Cutoff / Resonance deviations to simulate analog inexactness
Finer adjustments of several values in Fine Modulatione mode
System Requirements
Microsoft Windows – 7/10/11 • Intel- or AMD- based PC
MacOS – 10.13.x oder higher • Intel- or M1-based Mac
Supported formats: VST2 / VST3 / AU / AAX (Pro Tools 2023.3 Rosetta mode only / Pro Tools 2023.9 currently unsupported)
stabiles Metallgehäuse
7 Endlosregler aus Edelstahl
Grafikanzeige 128 x 64 Pixel, s/w, weiße LED-Hintergrundbeleuchtung
mehr als 1000 Sounds
3 Oszillatoren pro Stimme
Frequenzmodulation zwischen den Oszillatoren
Alle Q-Oszillatormodelle
Alle Microwave II/XT/XTk-Wavetables
2 unabhängige Multimode-Filter pro Stimme
Filter FM
2 Verzerrerstufen mit wählbaren Verzerrerkurven
3 schnelle LFOs pro Stimme
4 schnelle Hüllkurven pro Stimme
frei programmierbares Arpeggiator-Pattern pro Sound mit bis zu 16 Schritten
umfangreicher Multimode mit 128 Speicherplätzen
bis zu 25 Stimmen
16-fach multitimbral
programmierbarer Multimode mit 128 Speicherplätzen
7 Endlosregler aus Edelstahl
5 Taster
MIDI LED
Lautstärkeregler
Netzschalter
Stereoausgang
Kopfhörerausgang
MIDI-Eingang
USB-Anschluss für MIDI In/Out
arbeitet mit Standard USB MIDI-Treibern aktueller Betriebssysteme
Windows ME minimum, Windows XP oder neuer empfohlen
Mac OS X 10.2 minimum, Mac OS X 10.3 oder neuer empfohlen
Externes Universal-Steckernetzteil
FAQ + Download Area
FAQ + Download Area
We answer your most frequently asked questions about PPG Wave
We answer your most frequently asked questions about PPG Wave 3.V