It all started in early 2001, when Waldorf Attack took the VST world by storm. Several years later it is still one of the most commonly used virtual drum and percussion synthesizers worldwide. Why? Simply because Attack deftly delivers bombastic drum sounds suited to any musical style, with a unique sound engine offering instant access to all sound parameters.
Now we have migrated Attack to the iPad. Its impressive sound engine is cleverly complemented by an inte-grated 16-step sequencer that is as fun to use as it is useful. Attack offers 24 in-struments – each entirely programmable through a stunning, touch-optimized user interface. Its oscillators are fat, the filter flexible, and envelopes lightning fast. Each drum sound can be enriched with one of four independent insert multi-effects.
Attack's sound engine is also capable of producing powerful polyphonic synth/bass/lead sounds – perfect for creating full-blown backing sequences.Above and beyond that, we have also added the new Waldorf Phrase Vocoder technology as an effect and could not help but notice that this is great fun to use. Input lyrics, output song. Adjust gender as you have always wanted? Why not!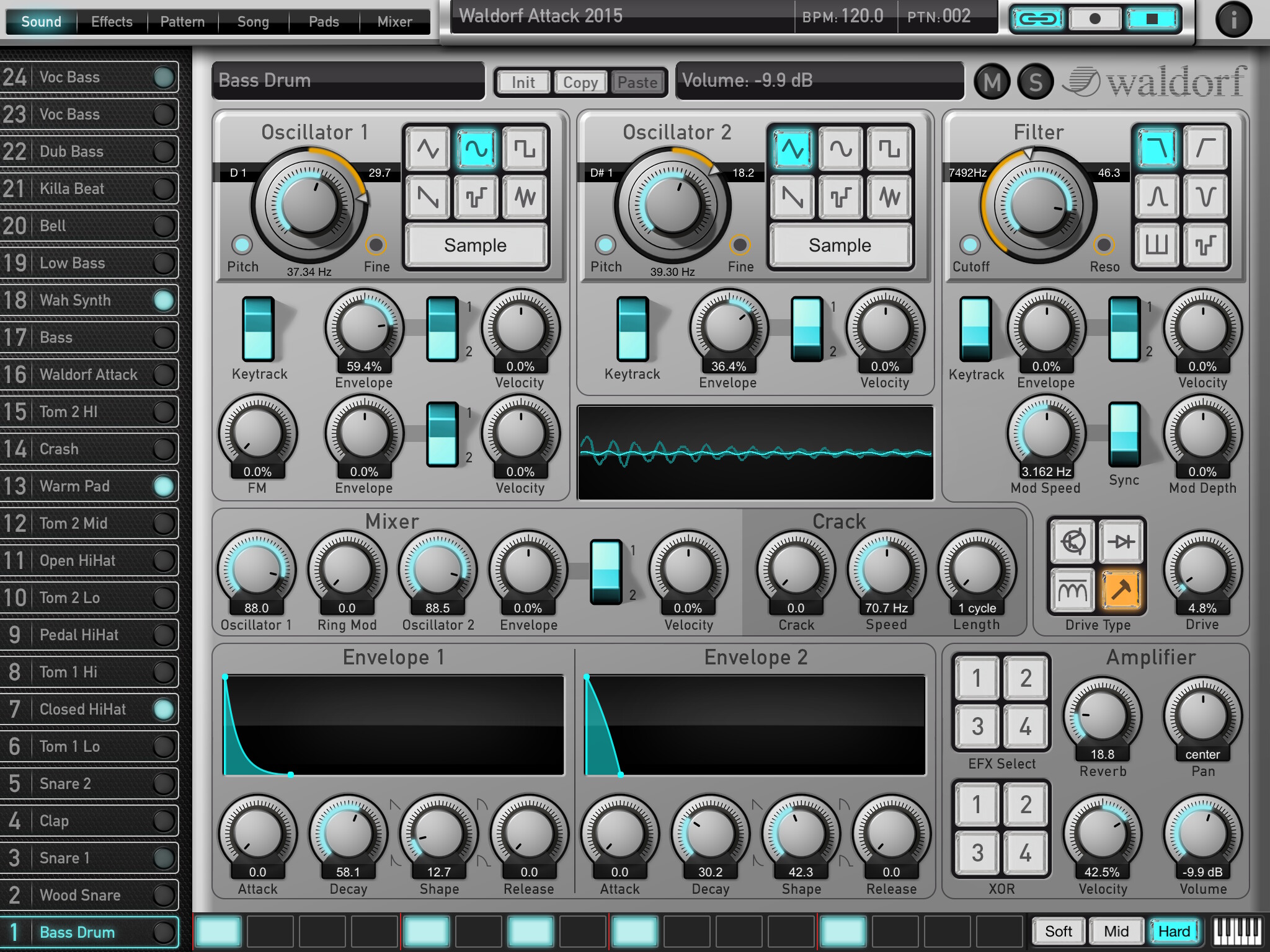 Just like Nave, Attack is a seriously in-depth musical instrument for the iPad. It is easy and great fun to use for sure, but at its core it is truly a sonic beast of an instrument, instrumental in inflicting out-and-out drum power – out of the tablet and into the walls!
24 different sounds
4 independent insert effects with
Delay
EQ
Drive
Phaser
Flanger
Chorus
Phrase Vocoder – a novel vocoder controlled by written text
Algorithmic reverb as send from every single effect channel or directly from sound
Compressor for the output sum
16-step pattern sequencer
Fractional track/step timing
Polyphonic steps
Audiobus support
Inter App Audio support
Core MIDI support
Export song to audio file
Dynamic voice allocation
compatible with iPad 3 (Retina), iPad mini (1,2,3), iPad Air (1,2)
Minimum iOS 7.0 required
AudioCopy / AudioPaste
Content control via iTunes File Sharing
Trigger pads
Mixer
Recording
24 different sounds
4 independent insert effects with
Delay
EQ
Drive
Phaser
Flanger
Chorus
Phrase Vocoder – a novel vocoder controlled by written text
Algorithmic reverb as send from every single effect channel or directly from sound
Compressor for the output sum
16-step pattern sequencer
Fractional track/step timing
Polyphonic steps
Audiobus support
Inter App Audio support
Core MIDI support
Export song to audio file
Dynamic voice allocation
compatible with iPad 3 (Retina), iPad mini (1,2,3), iPad Air (1,2)
Minimum iOS 7.0 required
AudioCopy / AudioPaste
Content control via iTunes File Sharing
Trigger pads
Mixer
Recording