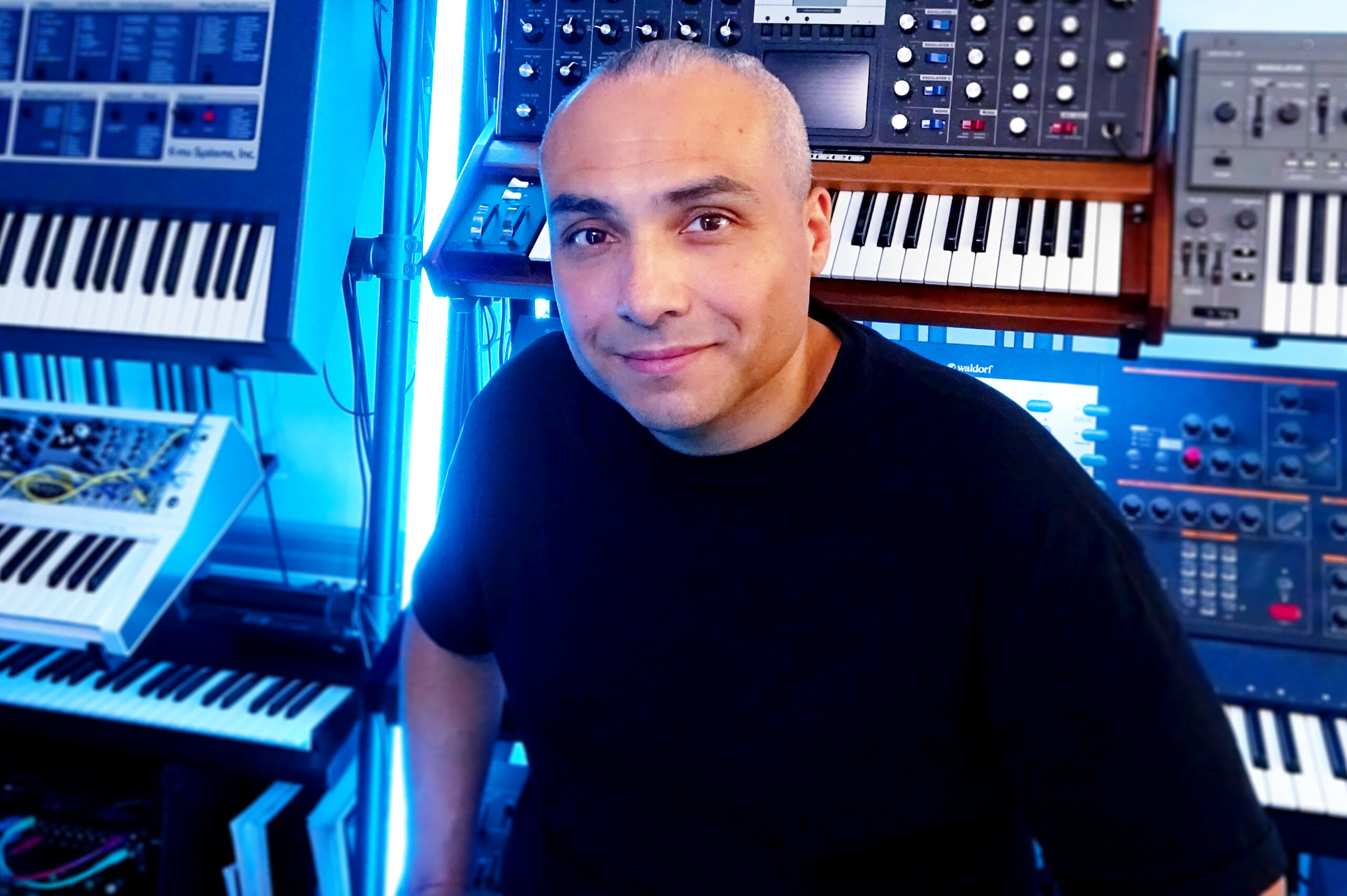 Anthony Rother is an influential visionary, an electro pioneer and one of electronic music's most prolific producers.
For more than two decades Rother aggregated a vast musical canon that reflects his unique career as a sound researcher exploring the aesthetics far beyond the boundaries of electro, techno and pop music.
For Waldorf Music he sat down at his Iridium Keyboard and exclusively designed 64 signature sounds using the vast palette of possibilities of the instruments sound engine which we are proud to share with all Iridium and Quantum owners free of charge.
How did you start making music?
I had a strong desire to become a musician since I was a little boy. At the age of 11, I had traded my cassette recorder with a schoolmate for his Casio VL-1 synthesizer pocket calculator. Playing on this Casio synth was the decisive moment for me when I fell in love with making music. The fascination and passion for synthesizers continues to this day.
What was your first synth?
My first real synthesizer was a Roland JD-800. I still own and use the JD-800 in my productions. Before that I had the AKAI S612 sampler, then an Ensoniq EPS 16 Plus, followed by the Ensoniq ASR-10, which I still use in the studio. But after years of multisampling I was very happy to finally own a real synthesizer with the JD-800.
What's the first thing you do when you're in front of a new synth?
The first thing I do is select an init patch so I can program my own sounds and intuitively get to know the synthesizer. Next is to find out how saving sounds works. After that comes the theoretical part, studying the manual. Thereby I am additionally armed with a classic highlighter.
Then I create a text file on my studio computer and make notes about the synthesizer there all the time.
What inspires you to your music?
My source of inspiration is life, both my own and what happens around me – be it on a political or interpersonal level. My works always focus on people, and futurism is a stylistic device. I use the machine as a metaphor for human problems and like to describe basic emotions. My stories are about machines told in terms of digital technology, serving as synonyms for human emotions. This creates futuristic images that illustrate feelings that are difficult to describe.
What is your favorite piece in your studio that you wouldn't want to be without that isn't a synth?
It's my beloved mixing console, an AVID Venue SC-48 digital console. Before I arrange my tracks in the DAW, I create several demo versions in a jam. Often such a jam is already the finished track. My mixing console is like an instrument for me. I play the arrangement of the song on my mixer and also do live effects to it. This is faster and more intuitive for me than moving blocks in a DAW.
Using Preset or Designing from Scratch?
Designing from scratch. The journey is the reward.
What is your production process: in-the-box or recorded live?
I produce with hardware. Mixer, synthesizer, drum machine, modular systems, vocoder and effects units. Everything as hardware. Everything always in direct access and in real time. In the computer or in the DAW I record MIDI and audio tracks. I then process the audio in the computer with plug-ins or with the effects in my mixer. My AVID mixer has a large number of Protools TDM plug-ins installed, from various manufacturers like Eventide, T.C. Electronics to Wave, it's all there.
What time of day are you most likely to be found in the studio?
Many years ago, I changed my studio night sessions to a very normal nine-to-five daytime operation. Only when I'm in a very intense creative process and therefore can't help it, do I produce late into the night. That usually happens right at the beginning, when I'm composing a new track. Creativity doesn't know any fixed working hours, you have to submit yourself with full dedication.
What role do Waldorf synthesizers play in your music?
I've been using Waldorf synthesizers since the 1990s. My first own Waldorf synthesizer was the Q in the limited Dark Edition, which was based on the design of the WAVE. In 1999 I got the Q synthesizer as a pre-production model directly from Waldorf. That was some time before the synth was commercially available. During the early years of the VST plug-in hype, I used Attack, PPG Wave and Largo. Fortunately, my friend and vintage expert Marco S. organized a Waldorf WAVE for me in 2006, which I still use intensively. I also own a Microwave XTK since 2015. In 2018, the dream synthesizer Quantum was added. In 2021 I was invited to be a beta tester for the Waldorf M, for which I programmed over 100 factory sounds. In 2022 I decided to use only the Quantum / Iridium family as my basic sound, thereby exploring these synthesizers down to the smallest part. Since then I work intensively with a Quantum, an Iridium keyboard and an Iridium desktop synthesizer.