The next level of Waldorf Music's
flagship Quantum synthesizer

---
REMAGEN, GERMANY: When Waldorf Music introduced the Quantum in 2018 it immediately found its way in the studios and hearts of the most acclaimed film composers, producers, musicians and sound designers. Now five years later Waldorf Music releases an upgrade of its flagship Quantum synthesizer called "Quantum MK2".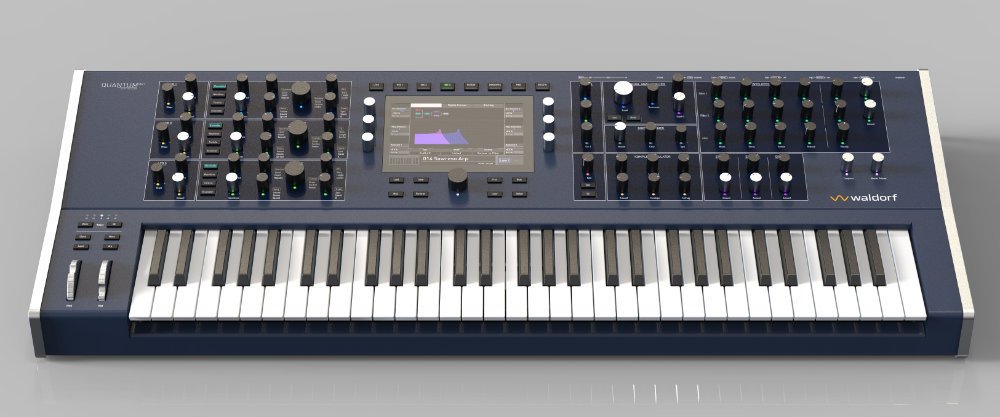 ‍Quantum MK2 was upgraded with a 61 keys polyphonic aftertouch keybed from Fatar, increased sampling storage to 59 GB, improved mechanical design and display. The new 3.0 firmware allows for up to 16 digital or any combination using the 8 analog filter with additional 8 digital.
‍61 keys Fatar TP8/SK with aftertouch

The Quantum MK2 is the first intrument which presents a 61 keys Fatar TP8/SK polyphonic aftertouch keybed to the world. With its increased possibilities for musicial and gestural expression the keybed allows to utilize the enormous modulation capabilities of the Quantum synthesis engine. It is a next level of expression based on a traditional keybed, which keeps all playing capabilities of a musician, and then extends it with an additional dimension of control and creativity.




The polyphonic aftertouch is highly customizable in multiple dimensions globally as well as for individual keys. The high-resolution graphical display supports visual feedback and control for the customization process. In addition to its internal poly aftertouch keybed, the Quantum MK2 can be controlled by any MPE capable controller by directly connecting to Quantum's USB host port.



1‍6 voices of polyphony, digital and analog filters 
Based on an 8 voice analogue dual-filter architecture, the Quantum has been opened up for up to 16 voices of polyphony in any combination of using digital dual multi-mode filters with the 8 analogue ones. Moreover the combination of analogue with digital filter opens up new sonic possibilities of what Waldorf Music stands for since its beginning: Hybrid digital and analogue synthesis. A new set of allocation modes gives the musician an easy control.
59 GB sampling storage
Another cornerstone of "The Quantum Mark 2" is its increased internal sampling storage from a few GB to 59 GB. The Quantum has become quickly the instrument of choice for modern advanced sampling capabilities for sound enthusiasts and cinematic composers from Berlin to Los Angeles. From firmware 1.0 to 3.0 Waldorf Music has listened to the requests and needs of musicians to extend it polyphonic granular sampling engine as well its traditional multi-sample engine. 
| | The updated mechanical design and a classy naval blue presents the musician an instrument of beauty and inspiration. The improved mounting of the high-resolution touch display provides wider viewing angles and an intuitive way of controlling the more advanced features of the Quantum synthesis engine. |
| --- | --- |
S‍ounds and samples
Highly aclaimed sound designers from all of over the world have contributed to the huge library of factory presets and and initial sample content of 2 GB. Waldorf Music is proud to have sounds from designers like Richard Devine, Howard Scarr, Reinhold Heil, BT, Matt Johnson, Joerg Huettner, Kevin Schroeder, Sascha Dikiciyan, Kurt Ader, Mike Huckaby, Thorsten Quaeschning and many more. All sounds are compatible with Waldorf's Iridium instruments in both directions.
Synthesis Platform
Waldorf Music has updated and improved its Quantum firmware continuously adding new synthesis capabilities and many feature requests by musicians. The Quantum firmware builds together with the Iridium firmware a "Waldorf Synthesis Platform." 
Product details
‍EAN: 4260126380998
SRP: 4.819,00 € (incl. German VAT)
Availability: end of january 2023
---
‍Feel free to send us a URL and/or PDF of anything posted or published for our records. 
Thanks in advance for your support. 
If you have questions don't hesitate to contact us and send us an email to the address below.
Your Waldorf Music Team

marketing@waldorfmusic.com
Tel.: +49 2642 9483000
‍About Waldorf Music
The well-known Waldorf Music brand has been synonymous with high-quality synthesizers for over 30 years; indeed, its innovative position in the electronic musical instruments marketplace dates back to 1989 with the release of the wavetable synthesis-based Microwave, an amazing 'reincarnation' of the legendary PPG Wave series — arguably amongst the most coveted high-end synthesizers of the early Eighties — that was instrumental in providing some called-for counterbalance to the dominance of Japanese and American designs.While Waldorf continued this unique technology tradition with successive synthesizer releases ranging from the mighty Wave — perhaps the most impressive, expressive, and user-friendly sound synthesis tool ever built — to raising the bar for VA (Virtual Analogue) synthesizers with the introduction of the popular Q series from 1999 onwards, the new millennium saw the trailblazing company making a timely move into the brave new world of music software with the release of its first VST Instrument, PPG Wave 2.V, a tradition it continues to this day with more recent software releases including its Nave advanced wavetable synthesizer. Subsequent successes in the high-quality hardware arena include the Blofeld synthesizer — forging sound and design into an unbeatable price/performance ratio in both desktop and keyboard versions — and Zarenbourg, a contemporary electric piano par excellence, as well as the cost-conscious Rocket (synthesizer), 2-Pole (analogue filter), and Streichfett (string synthesizer) desktop modules. Meanwhile, Waldorf broadened its appeal further still by introducing Nave to transform any iPad into an advanced wavetable synthesizer. Fast-forwarding to today sees the high-quality synthesizer manufacturer musically returning to its roots with M, bringing back classic Microwave and 'modern' Microwave II tone generation as a new-generation classic hybrid wavetable synthesizer complimenting a slew of contemporary high-quality synthesizers taking the well-known name into the hands-on musical masses — whether working with its (flagship) Quantum high-class hybrid or (polyphonic aftertouch pressure-providing) Iridium digital synthesizer keyboards, (FPGA-based) Kyra and Iridium digital desktop synthesizers, or other hardware (including a welcomed move into the ever-expanding Eurorack modular synth system format) or software (including iOS).
---
‍Waldorf Music GmbH
Lilienthalstr. 7, 53424 Remagen, Germany
www.waldorfmusic.com
---